::JAZZ FOR ALL OCCASIONS::
With a wide-ranging experience from house parties, barbecues, weddings and anniversaries to company promotions, corporate events and receptions, we will work with you to ensure your event is a complete success. Renowned for our professionalism, attention to detail and musicianship, we work hard to ensure the desired ambience is created at your event
::LIVE JAZZ BAND::
The smooth lyrical tones of Katie's saxophone, along side piano and a great rhythm section ensure an exuberant performance of jazz standards. Perfect for dinners and cocktail evenings, KTjazz can provide cool jazz from solo sax to quartet depending on the atmosphere you want to create; intimate piano and sax for smaller events to swinging quartet for a more lively party.
Generally, prices below include a two-hour performance, with a half hour break in the middle, but a degree of flexibility will allow you to mould the program according to your particular schedule.
::MUSICIANS FOR HIRE - PRICES::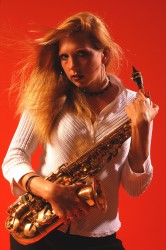 SAX SOLO
Saxophone solo for once off event £200
Saxophone solo for weekly contract £100
JAZZ DUO
Sax & Piano duo for once off event £350
Sax & Piano duo for weekly contract £200
JAZZ TRIO
Sax, Piano & Double Bass for once off event £500
Sax, Piano & Double Bass for weekly contract £300
JAZZ QUARTET
Sax, Piano, Double Bass & Drums for once off event £650
Sax, Piano, Double Bass & Drums for weekly contract £400
Get the Flash Player to see this player.